Watch our On-Demand Demo:
How to Build Lightning-Fast Pages that Get More Leads & Sales with OptimizePress
5 Scientifically Proven Techniques to Attract a Loyal Audience
These days, it's not enough to just offer great content. You also need to build a loyal blog audience for that content.
A large portion of people believes that businesses that consistently create content are interested in building good relationships with old and new customers.
Whether you're building a blog audience or a Facebook fan base, the technique is essentially the same. What's more, it takes the same techniques to build an audience of 10,000 people that it takes to build an audience of ten.
One of those techniques is interactive content. Michael Kent and Maureen Kent were the first researchers to come up with a concept known as the dialogue theory, which says that in order to build a loyal community, you must establish two-way communication.
It may sound like a cliche, but it's worth repeating: solid content is the bedrock of every business that has successfully built a loyal audience.
Consider this: To millions of consumers around the world, Apple sells iPads, iPhones, and iMacs. But content marketers think differently.
Of course, those are the products that Apple sells but get this: Apple sells information products.
Products such as the iPhone and iPad are information devices because you use them to communicate with other people – to look for and consume information. Behind these wireless mobile devices is a lot of high-quality interactive content.
Apple's content became interactive and was repackaged into a handheld device that you (the consumer) can take everywhere you go.
In the internet marketing world, if you want to build customer loyalty and achieve customer retention, you've got to think content. Once you recognize that your audience is an irreplaceable asset, you'll be mindful of the content that you produce for them.
Let's look at five smart ways to attract and nurture a community of new customers, increase customer satisfaction, and build a lasting relationship with your audience.
Strategy #1: Optimize Your Audience's Buying Cycle
Your ideal buyer follows a cycle when making a buying decision.
The more you understand the role that optimization plays in each stage, the more chances you have to close the sale when you get to the appropriate moment. HubSpot highlights the 5 stages of the customer buying cycle and shows you exactly how to leverage each stage.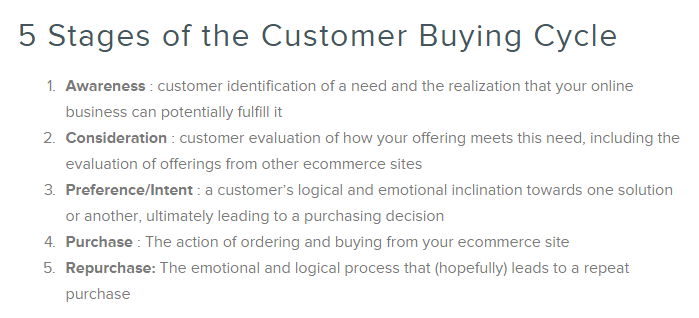 InboundWorks went further, by grouping the five stages into three, in order to create a simpler and more meaningful model.
Your first opportunity to connect with potential new customers is at the awareness stage. The first impression that you create at this stage will make a whole lot of difference, as the audience moves to the second (evaluation) stage.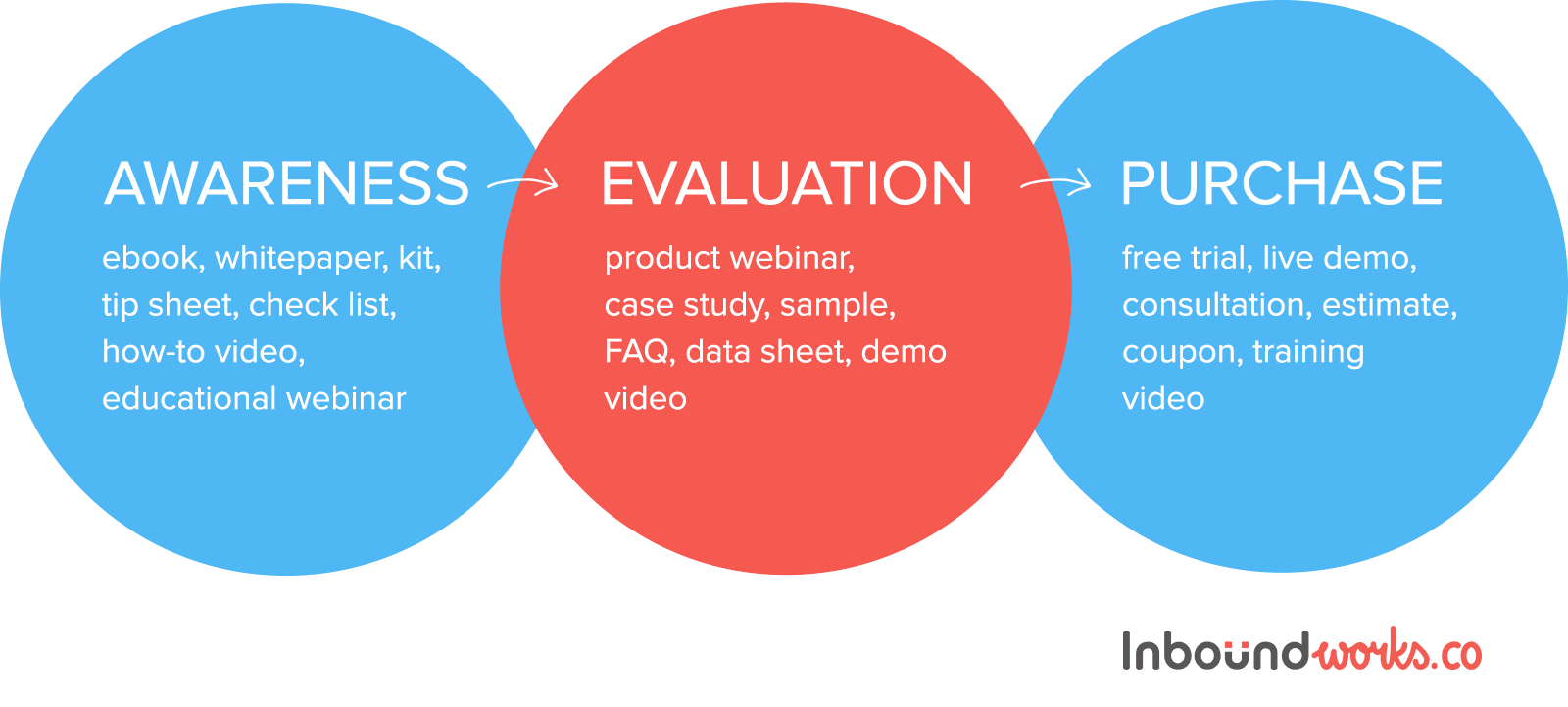 In each stage, your job is to understand the language of your audience, communicate with clarity and listen more than you speak. This approach makes it easier to answer their questions and offer the right solutions to their problems.
In fact, creating the right content is all about putting yourself in the shoes of your audience. If you want people to keep coming back for more, you've got to give them a good reason to do so.
Strategy #2: Leverage Content Archetypes & Create Serial Content
An effective way to create a loyal customer out of a virtual stranger is to create serial content – the typical Part 1, Part 2, etc., posts that bloggers often publish. Blog post series keep readers coming back for more and work towards building customer loyalty.
Not just any series of blog posts will do. Instead, use the content archetype that produces the best serial results. For example, case studies – one of the 15 content types that drive traffic – is a great choice for a series of posts.
You should focus on creating the right content. There is no need to be clever. Instead, be clear on your message. And, match your content to the buying cycle.
To ensure that your series content is born out of evergreen ideas, you can also pre-sell the idea of each series, before it goes live.
Build momentum before publishing it and you'll always have a small army of targeted readers who are ready and willing to help spread your content and attract a larger loyal audience for your brand.
Strategy #3: Use External Growth Hacks
What is growth hacking?
Several definitions have already been given, but this one, from Growth Devil, is helpful:
Growth hacking is basically a way that very small or brand-new companies use analytical tools to analyze who is using their product, and how and then relentlessly pursue growth for their businesses.
TechBeach sees it as:
A marketing procedure primarily employed in tech startups that uses creativity, social metrics and analytical thinking, as well as tools to sell products and gain exposure.
Using external growth hacks can help you grow a large and loyal audience. Here's a little economic study that might be helpful.
A Study.com text, on external business factors, points to the financial crisis of 2007-2008 as a demonstration of the impact of external forces and how they can grossly inflate or deflate a strategy.
During that crisis, 100-year old American companies lost everything. That economic crisis led to the dissolution of formerly secure financial services firms, including Lehman Brothers and Bear Sterns.
Yet, AIG, which also faced the same economic crisis, was rescued by the Federal Reserve. Why wasn't Lehman Brothers bailed out, too?
Well, several factors undoubtedly contributed to that. But, when you look at it from a marketing perspective, you begin to see that the effect of an external growth hack doesn't necessarily work for everyone in the same manner, nor produce the same results for all.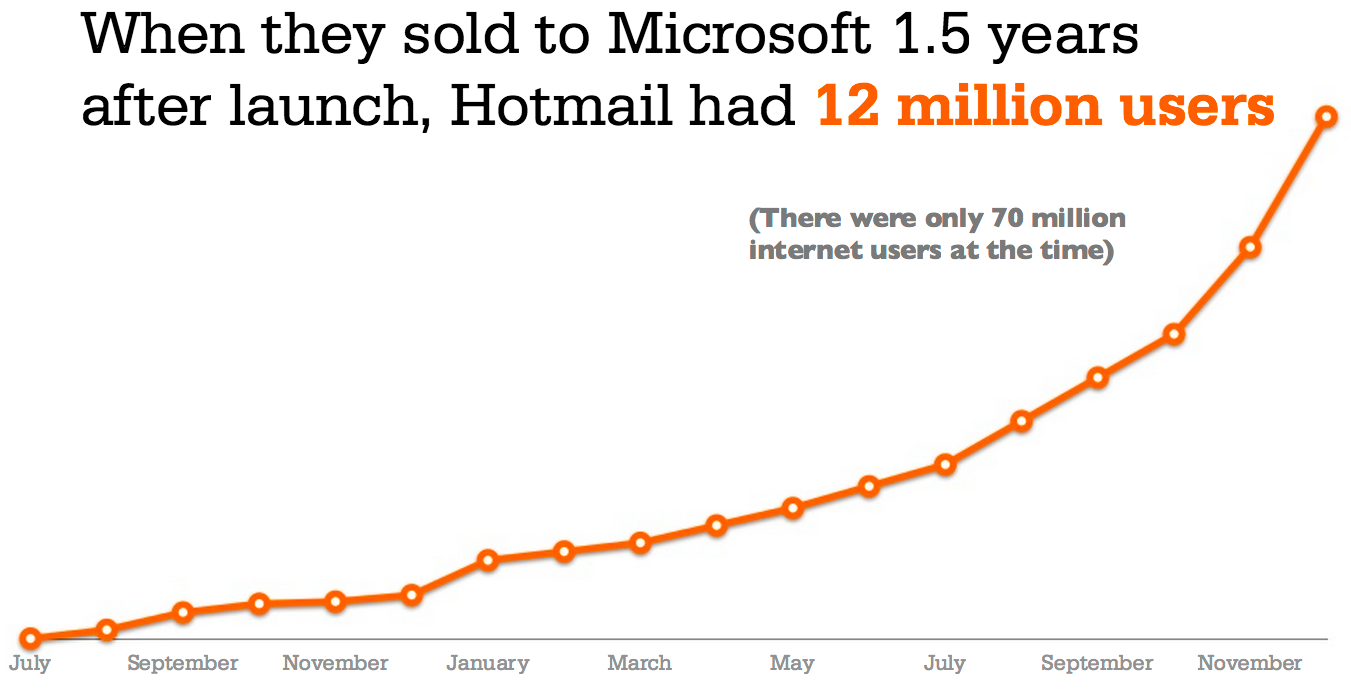 That being said, once you focus your efforts on the good of your target audience, science tells us they'll reciprocate in kind. This is the way to start building trust and a strong customer relationship. In the eyes of the audience, the brand that answers questions in a timely and accurate manner is the best brand, no matter what experience other people have. It suggests customer satisfaction, which every consumer is after.
If you want to build a loyal audience, on your own blog or on any social media platform, remember that putting other people first will, in turn, inspire them to put you first.
As Zig Ziglar once said, "You will get all you want in life, if you help enough other people get what they want."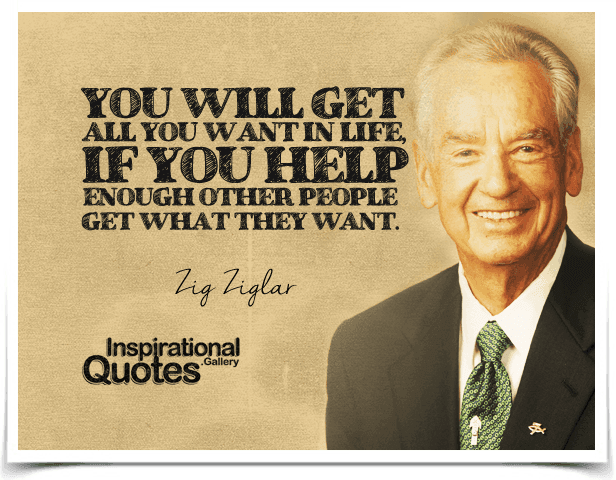 I've talked about growth hacking and its power to change the way that you approach content marketing and customers. When you're concerned about "growth," then everything else has a way of clicking into place. That's clarity of purpose.
Sure, it's fine to want more blog traffic, more useful comments for your blog posts, more or better relationships with power users and more social shares for your content. But, all of those things should lead to one much more important thing: growth.
In the years since I embraced content marketing, it's been success upon success.
Of course, I've failed on occasion, too. But, what I've achieved far outweighs the mistakes and failures of the past. That said, one of the best ways to experience an online breakthrough is to get off your site and connect with other people. It lets you engage with potential new customers and showcases that you care about your audience.
When you're building your audience, Craig Miller, Chief Marketing Officer at Shopify, strongly recommends replacing the word "marketing" with "growth" – or growth hacking.
External marketing strategies – like guest blogging, email outreach, and press releases, among others – will generate the most qualified audience for your blog from social media. They'll also net you 6.9 times more organic search traffic, when they're consistently implemented and followed.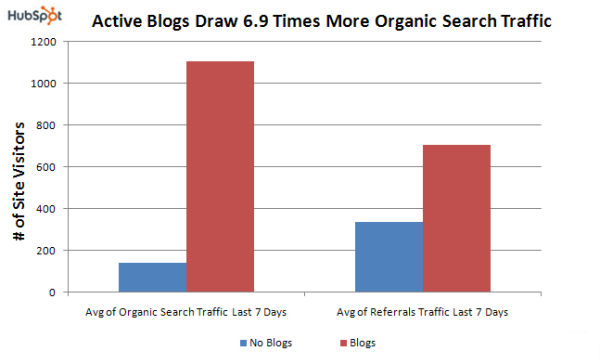 Nurturing an audience is what makes them loyal to your brand, but you've got to reach those potential new customers first.
One example of a business that used growth hacking to acquire over 160,000 paying customers is Shopify.
They've grown 10X in 3 years, in part, because they placed content above everything else. Their blog is active and they promote their blog content through social media networks.
One of their blog posts, entitled "Mobile Now Accounts for 50.3 of All Ecommerce Traffic," has generated over 4,000 social shares, valuable comments, and inbound links over the past five years.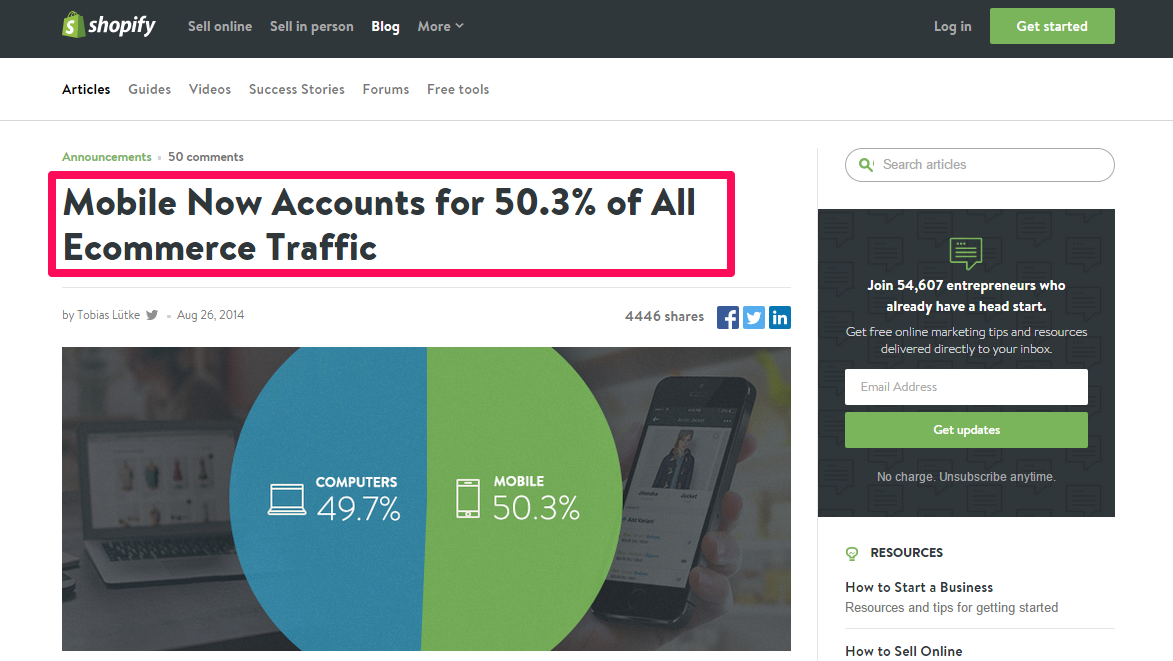 Shopify has also built a strong connection with other media sites, such as Forbes, Entrepreneur, Business Insider and more. They'll often re-publish their blog posts on a few of these high-traffic authority blogs, to drive additional traffic to their blog and increase member sign-ups.
Twitter is another growth-hack case study for building a loyal audience. Million of people have heard about it and use it.
When Twitter was launched, there was lots of buzz and skyrocketing popularity on both mainstream and industry blogs, as well as throughout most other social media networks.
But, there was a problem.
Twitter had a very large audience and people loved them. When people sign up to Twitter, they'd hang out and stay active for few days. But, they primarily didn't stay too long. In order words, Twitter was acquiring new users easily but wasn't able to retain them at the same rate.
So, how did Twitter overcome this challenge and eventually encourage customer retention? Well, they didn't follow common wisdom, because they didn't have a common audience problem. It was retaining users that were the stumbling block.
Twitter conducted in-depth testing on user experience and tweaked its website interface as a result. With the information gained from the testing, they rebuilt both the front- and back-end, making the entire Twitter experience more personable over time.
They realized that it was about growth hacking their network and getting them to see the benefit in a wildly popular and active platform – which is what Twitter became.
They made it possible for users to select 5 – 10 accounts to follow during registration. Now, there is a connection between a user and their friends, family members and colleagues.
This single change means that if I've invited my mom or best friend to join Twitter, I will naturally check back the next day to see whether they've accepted the invitation or not.
And, if they have, then I'm more likely to keep logging in to connect, share and communicate with them.
The new design ensured that users invested some time, thought and energy into their account. Human beings tend to spend more time on those things that matter to them – in this case, their Twitter account. I'll show you later how Twitter diversified from a one-user mindset to a multiple-user mindset.
Here are the simple ways to ensure your success in ultimately building a loyalty program, using external factor growth hacking:
Connect on a personal level: To cut through the noise as you connect with your target audience outside your blog, make it personal.
As documented at ScienceDaily, a research study by Prof. David Eilam of the Department of Zoology at TAU's Faculty of Life Sciences found that the common actions which make up the basis of traditions are actually necessary for the survival of those traditions in various cultures.
In other words, the research pointed to the fact that the "personal touch" is the key to cultural preservation.
Personality is one factor that differentiates your brand from the others. But, you may also remember that diversification is one of the external growth hacks that I promised to talk about.
When Walt Disney moved from producing animated movies to theme parks and vacation rentals, it was, in one sense, a digression from their primary service. But, more deeply connecting with customers helped them to build a loyal audience.
An excerpt from the Brand Loyalty Publication of the Disney Institute depicts what Disney stands for and how they give the personal touch to their guests and customers. According to Bruce I. Jones, "At Disney Institute, we train business leaders, to recognize the power of building and nurturing a consistent brand – one that allows an organization to sustain lifelong relationships with its customers."
At Disney Institute, they recognize and treat employees like "emotional engines." For example, Disney theme parks receive thousands of guest letters and emails every year, detailing not what attractions they loved, but the positive interactions that they had with Disney cast members (what Disney calls all of its employees).
What Disney's cast members do, in this regard, helps distinguish the Disney brand from its competitors. It also works wonders to improve brand loyalty.
Apple is another brand that excels at fostering brand loyalty in its customers.
When we talk about " the personal touch," we're basically saying that you should impact more lives with your content, your message and your brand culture.
Don't wait for the world (or your target audience) to come to you – they may never discover you. Instead, get off of your site and start connecting with people on a personal level.
Capture interest based on need: Like we learned in kindergarten, if you want people to show interest in you, you have to show interest in them.
Most people want to become a loyal customer. But most people also want to be heard.
To build a loyal audience for your brand, one of the things that you have to know is what your target audience is interested in. What exactly do they want to know more about? And how can you leverage this towards increasing customer loyalty in the future?
Getting to know what your potential new customers crave lets you create more interaction with them, based on those interests. Then, it's truly all about them.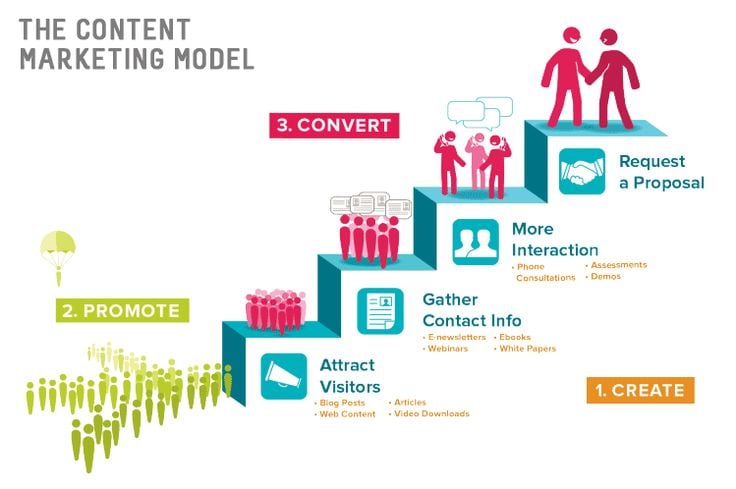 When you're building a community of people who have faith in your message, you have to take some responsibility for those people. Start by respecting their interests.
Targeting the basic interests of your customers will not only draw them closer to you but will also inspire them to share your content. And, the more that they share, the more they – and others – get acquainted with your brand.
It's the psychology of consumers and it drives their behavior and choices.
Driving more traffic to a blog is a goal that you can achieve, by following the ACCD model below.

Content that stimulates or evokes an emotional reaction in your readers will get more widely shared on social media platforms. You can nurture your target audience's interests, by answering their questions and rewarding them for the time that they spend on your site.
Interests are inextricably tied to emotions. You tend to be interested in what you're passionate about. The same is true for your customers. So, in order to win their trust and loyalty, appeal to them emotionally. As Zig Ziglar said, "selling is essentially the transfer of feelings."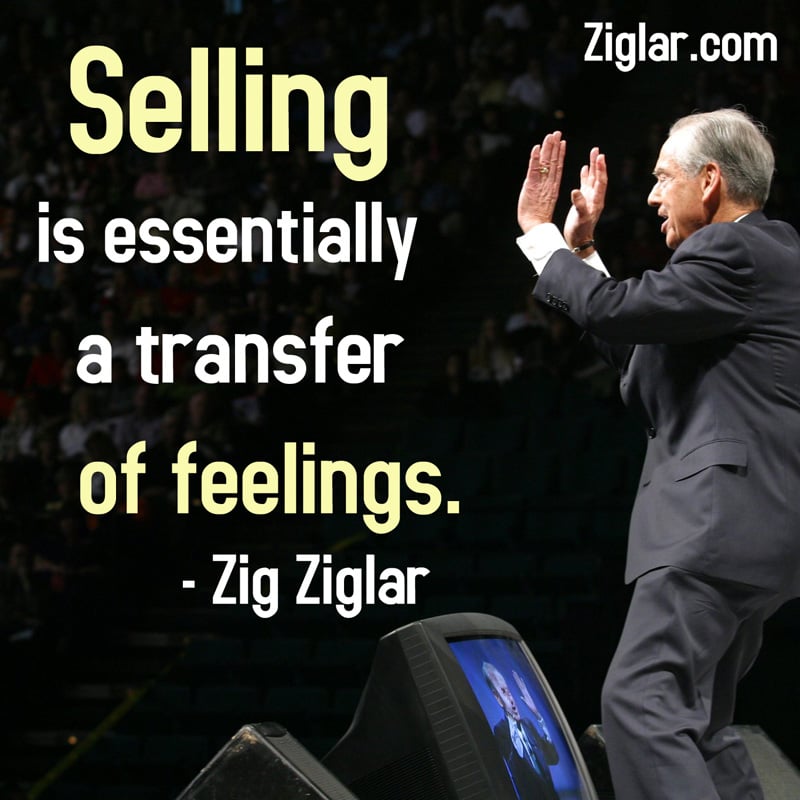 Get involved in the discussion: The word "discussion" could mean a conversation, an argument, a debate or a chat. The objective is for you to get involved and share your own opinion or worldview.
When you get involved in a discussion, keep your focus on bringing out the best in everyone, both the people asking the question and those attempting to answer it.
For example, when you take part in a forum discussion, after reading a few threads or answers to a given question, don't come out as if you believe you're the most intelligent person in the conversation – odds are you're not.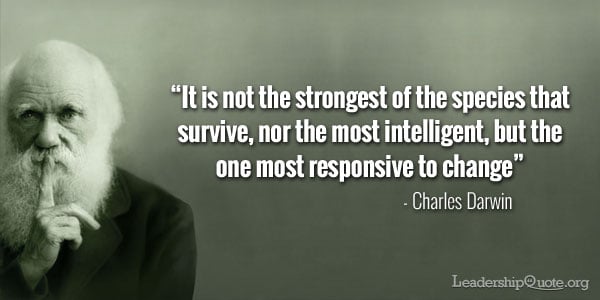 Recognizing the contributions of others who are participating in the conversation isn't just the courteous thing to do – it's also the smart thing to do. Cite other responses and give proper attribution. In so doing, you'll win over both the person who asked the question and the experts who claim to know it all. It's a strategy that I've been using lately on different private forums and, so far, it's working.
Drive an audience that believes in your project: The rule is simple. If you want to build a loyal audience, you must make sure that the audience is ripe for your message. Your ideal prospect has to be primed to think positively about your solution. In a nutshell, they should care about your project.
The words and phrases that they search for in Google MUST be relevant to your field. If not, you're just wasting your time trying to convert them.
Infusionsoft understands the power of an engaged audience and how to turn them into new customers. Greg Head, Infusionsoft's CMO, shared the two metrics that help marketers define an engaged customer- customer acquisition cost and lifetime value. He also reminded us that "all customers are not created equal."
He suggested that segmenting customers and conducting demographic and behavioral research are important, because this is how you identify your ideal customers and what messages they respond to.
As a content marketer and blogger, you can get 3 times more loyal customers from half of your marketing, as long as the people that you're targeting are really interested and truly believe in your project.
So, stop striving to drive more blog traffic, indiscriminately, and start focusing on driving the right people to your site. It's better to attract 10 qualified customers who believe in what you're doing than to attract 1000 people who are apathetic.
Strategy #4: Reverse-Engineer Your Market
How can you take advantage of a ready-made, pre-existing market, to build a loyal audience?
You can reverse-engineer a successful competitor's backlinks and digital marketing, to discover where they're getting visitors from, beyond the search engines.
John G Dawes, Senior Research Associate at the University of South Australia, conducted a research study to determine the effect of an unfamiliar product that's introduced into the market. In other words, the product and the market were unfamiliar – not related in any way.
At the end of the study, it became clear that the product will likely fail, without a strategic approach to marketing. In other words, you can tilt the playing field in your own favor and help customers see things the way that you do.
However, that's not the focus of this section. Here, we're looking at the opportunities that you have in the marketplace, especially where there is a lot of competition. How do you cut through the noise and still attract an audience that believes in you, with the ultimate goal of building customer loyalty?
Your market is your hub. Without it, you can't successfully build an audience, let alone make them loyal to your brand. The Market Analysis Guide, provided by the U.S. Small Business Administration, found that several factors affect the decisions a company makes, pertaining to its market.
This doesn't mean that you have to resort to cajoling customers or deceiving them into buying something that they actually don't want.
On the contrary, it's about conveying your message in a way that they've never encountered. When you do that consistently, you'll convert visitors into a loyal audience.
According to FGI Research, the questions that you ask your ideal customers, in order to assess satisfaction, are not the same ones that you would ask to evaluate an ad before it goes live.
Know your objective: There is no better marketing advice than, "know your audience." When you know them well, it sharpens your objective.
According to a report by AudienceScience, advertisers can now see that real success at digital marketing rests wholly on knowing who the ideal audience is and how to target them.
The term "objective" is commonly used by the military, in drafting a strategic plan against the enemy, to describe a set target or goal that must be accomplished. Get to know your reason for being in business. Your objective is what directs everything that you do.
Your objective also gives you a standard to live and work by. Zappos, an online shopping store for shoes and apparel, started out during the ecommerce boom. How did they scale and beat the competition, to become a known brand in both the U.S. and Europe?
They developed 10 core values. These, in turn, became their way of life (or culture) and their customers loved them for it.
Today, Zappos enjoys the loyalty of millions of customers, all because of core values that bring about a great customer experience. You, too, can work towards building customer loyalty by showcasing values that suggest customer satisfaction.
Focus on the needs of customers: Keep feeding your audience what they ask for. That's the easiest way to engage them.
Don't try to reinvent the wheel or complicate your relationship with them. Just focus on answering whatever simple questions you are regularly asked.  They'll grow to become loyal to you.
A recent conference at the University of Colorado was centered on the desire to better understand the needs of customers. It's never been easier than it is now to study customers and their perceived needs and desires. It's also obvious that when companies take the time to do this, they can more easily connect to and resonate with customers on an emotional, personal level.
For example, OkCupid constantly investigates the dynamics of human dating, relationships and attraction.
Don't be afraid to sell: A loyal audience should buy your product. You started a business to make a living, as well as to make an impact on the world. The easiest way to gauge a loyal audience is by their commitment to you.
In other words, selling is part of building a committed audience.
In a recent research study, Rain Sales Training analyzed over 700 B2B purchases from customers representing $3.1 billion in annual purchases. Their findings were phenomenal.
One of the key areas of inquiry was the methods that smart salespeople use when selling. They found that the sellers who converted the most customers don't just sell differently or quietly. They sell radically differently than the sellers who don't regularly ask for the sale.
If you do your job well and meet the needs of people, by giving away plenty of high-quality content for free, there will come a time in your business when you need to sell.
When that time comes, don't be afraid to ask your ideal customers to buy your product. If they were referred by another customer, then they'll be easier to deal with.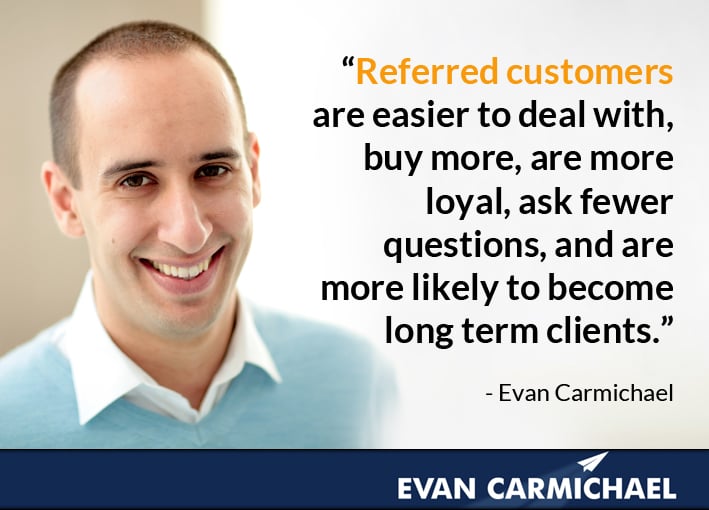 If your audience has been receiving free valuable content from you for a long time, the first day you ask them to buy, some will leave your list – maybe even a lot of them. Some will even get angry and stop following you.
That's ok. After all, you don't need those people. In fact, you're better off in business without them.
Asking for the sale is good, but what if they don't respond?
Strategy #5: Strategically Measure Audience Engagement
What engagement metrics should you use? Well, it depends on the platform. If it's your blog, then email subscribers, comments, sales, leads, page views, time on site and number of visitors coming from SERPs are a few of the useful metrics that you can use.
You can only say that you have an effective marketing strategy after you've measured its effectiveness. Brands and internet marketers are now measuring every campaign they set up because they know it's the only way to keep improving their campaigns.
No matter what platform you're working on, you can always determine and monitor the right metrics. For example, you can measure the number of tweets, retweets and new followers on Twitter.
Don't try to track several metrics at once, as this will only complicate things for you. Instead, focus on one actionable metric at a time and scale from there.
Track actionable metrics: A metric can and should be actionable. If it's not, it's just a vanity metric, which carries little to no meaning for you.
Vanity metrics may boost your ego and get you excited, but they don't help you to grow your business revenue or build long-term success. Vanity metrics could include metrics, such as page views, site visits, and blog comments.
If you want to take your audience building to the next level, focus on actionable metrics that will improve your bottom line – e.g., email subscribers, leads, sales, and business connections.
The key metrics that matter to you are usually concerned with activation (making sure that users have a great experience when they visit your site) and retention (putting forth an extra effort to satisfy the audience and get them to come back).
That's how a loyal audience is nurtured. It's not a one-and-done task – you've got to be consistent.
Conclusion
Content marketing has made gaining an audience a lot easier than it used to be. However, the real challenge is activating those people and turning them into long-term customers that will stay loyal to your brand.
Recent statistics found that companies focus more on acquiring new customers than on retaining the ones that they already have, even though it can cost 7 times more to win a new customer.
There is nothing wrong with leveraging tools to acquire new prospects. But, there is something wrong when you ignore your current site visitors. After all, site visitors don't have to remain visitors forever – they can become fans.
You've got to upgrade their experience, communicate better and get to know them well, all the while keeping in mind that to build a successful and thriving business, it takes consistency, great service and high-quality content that's right for your audience. Customer loyalty rests on these factors, so keep these principles at the forefront of your mind. 
What other techniques have you found effective for attracting new customers to your blog?